Overview
Alicia Guevara is an experienced c-suite level executive in the non-profit sector. She brings 25+ years of experience leading nonprofit organizations, developing talent, influencing public policy, designing business strategies, and generating revenue through fundraising and earned income opportunities.
Alicia expressed her need to have an online presence outside of LinkedIn that highlighted her passion for youth development. She wanted a space where her numerous news features could be highlighted, pictures of her in the field and links to previous organizations could live and be updated at an ongoing basis.
Approach
Keeping in mind Alicia's goals to have a usable and visually-stunning website centered around her career, I started designing a personal portfolio site with a flat hierarchy. I built the site using Squarespace, I wanted to go with a website builder that Alicia could update on her own as her career progresses.
The design of her portfolio focuses on making sure that the site visitors know what Alicia has done both in business and in the community and how their intersect. Her business is the community.
My Role
As Designer for my project, I was involved in the entire process, including the overall strategy, user research, website hierarchy and visual designs.

Timeframe - 3 weeks
Client
Alicia Guevara CEO of Big Brothers Big Sisters of NYC
View the live website here: https://www.aliciaguevara.org/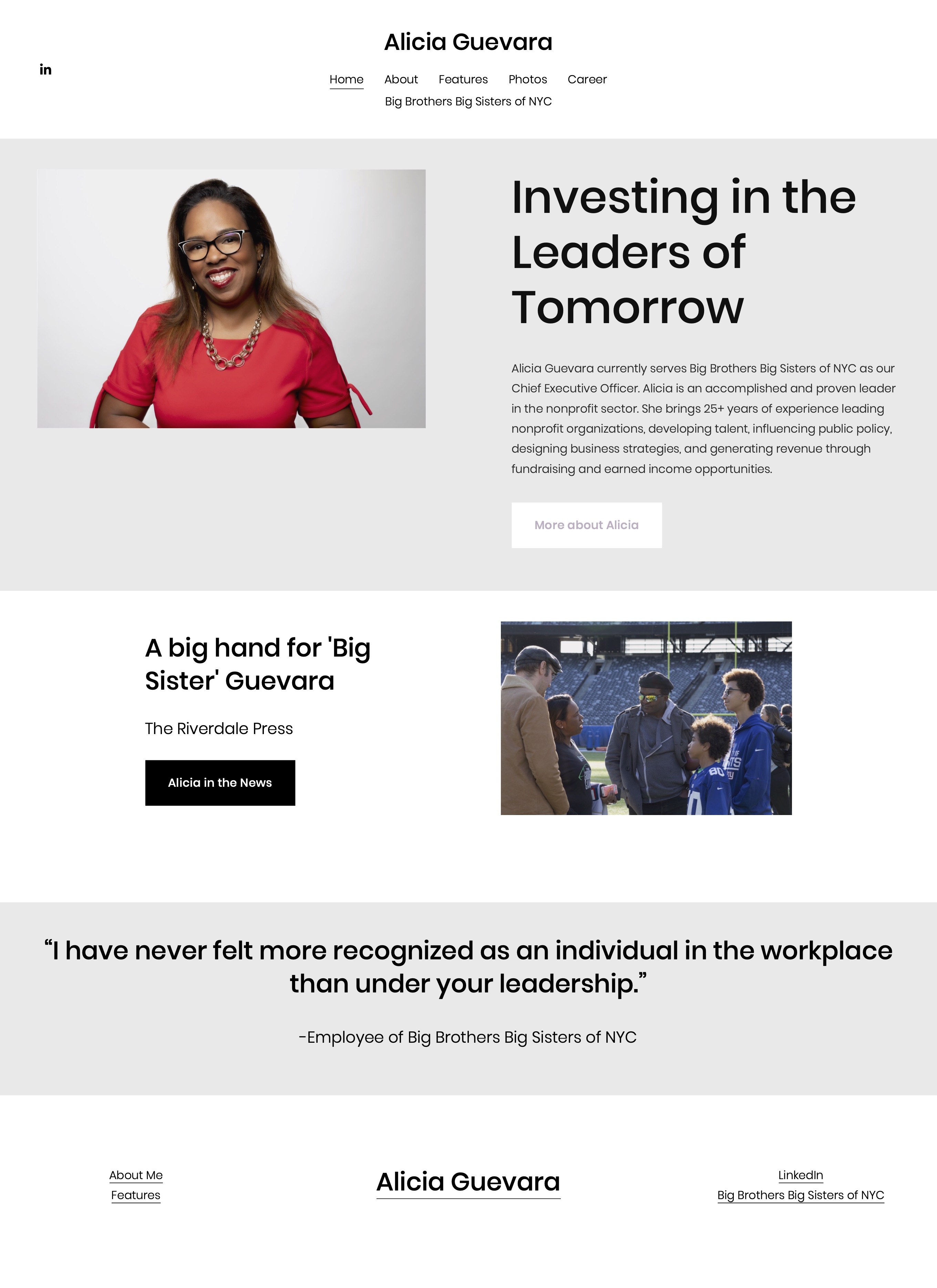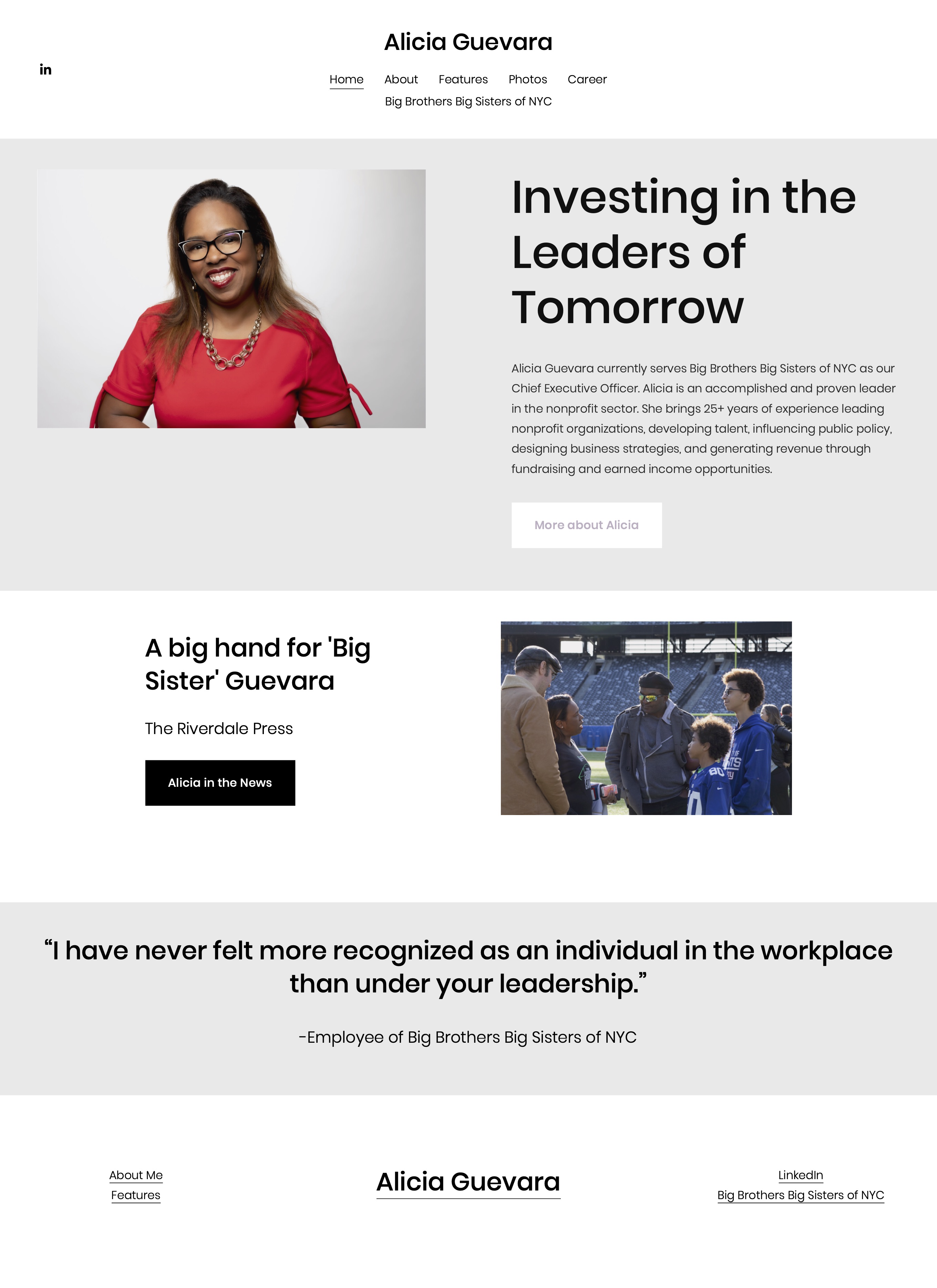 Home Page
I designed the homepage to feature picture of Alicia as the focal point. Leveraging the pop of color from her headshot to bring the page to life. The headline "Investing in the Leaders of Tomorrow" is a true testament of the work she has done over her career.
Giving a brief overview of what Alicia has been up to up to this point is ended with a CTA that takes you to the About page.
Navigation
It was important to keep the site flat and easy to use. All pages are listed in top navigation bar, with a direct link to the organization where she currently serves as the CEO of Big Brothers Big Sisters of NYC.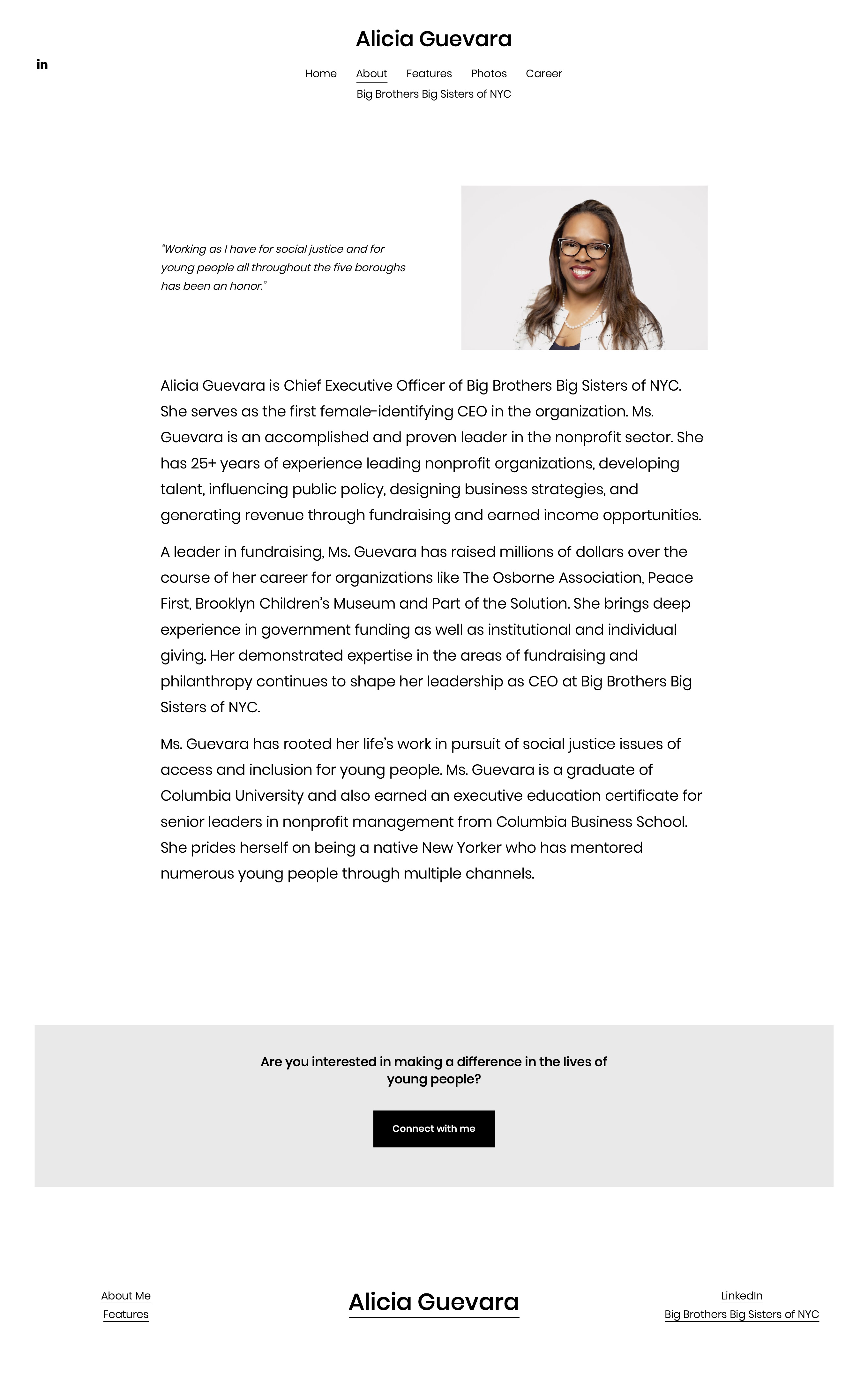 About Page
The about page is a great opportunity to go into more detail about who Alicia is and what her passions are. I pulled out a quote from one of her article features to add a human touch to this page.
Contact Information
We were very intentional about not including direct personal ways to reach Alicia from this site. The CTA in this page is labeled "Connect with me" and opens a new page in LinkedIn to connect. Site visitors are able to connect with Alicia via messenger or simple request on LinkedIn.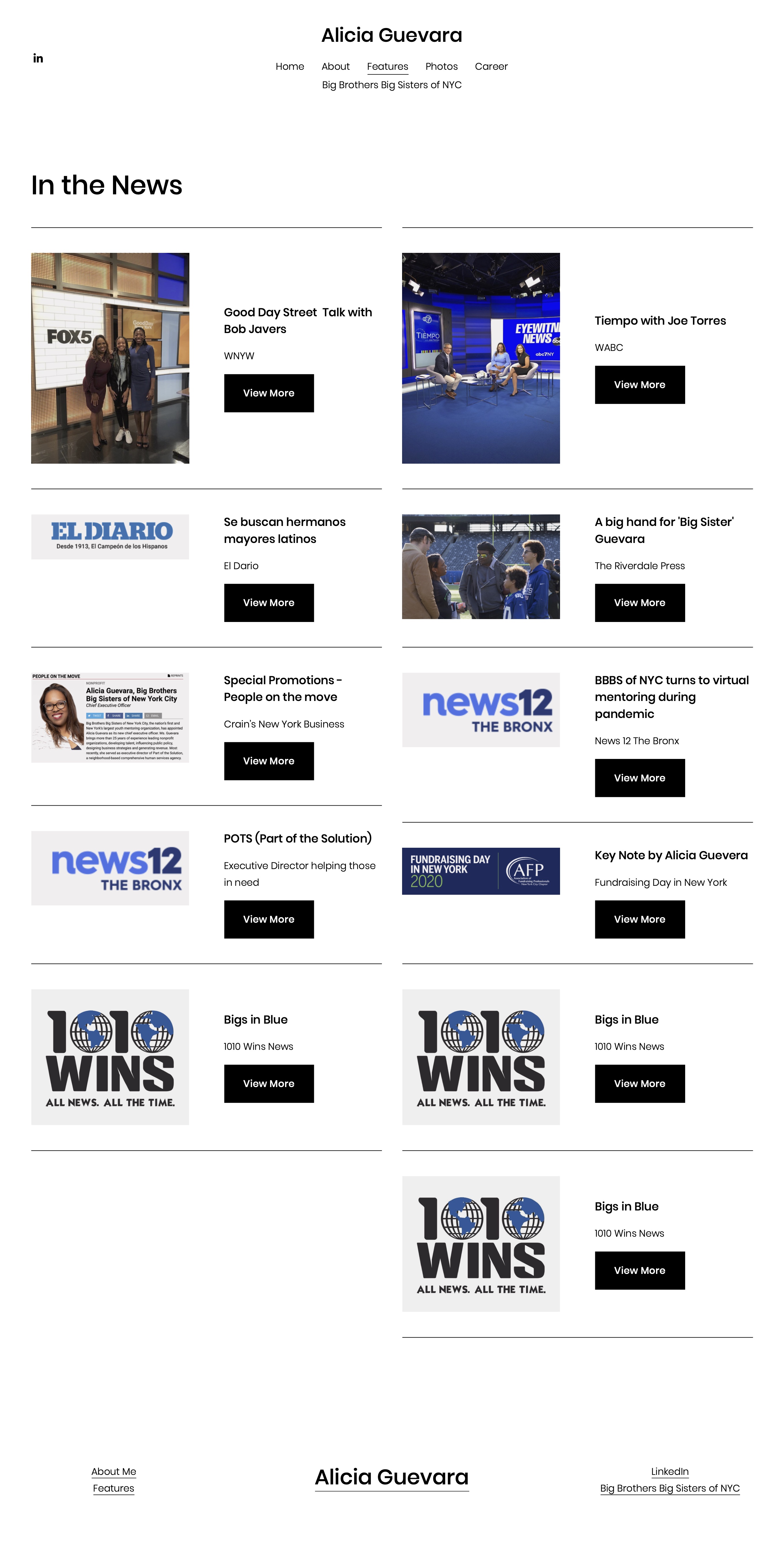 Features in the News
Alicia does a lot of awareness work in each role that she occupies. This features page highlights her extensive contacts and media coverage over the years. Each feature has a view more CTA that opens up to the source in a new tab.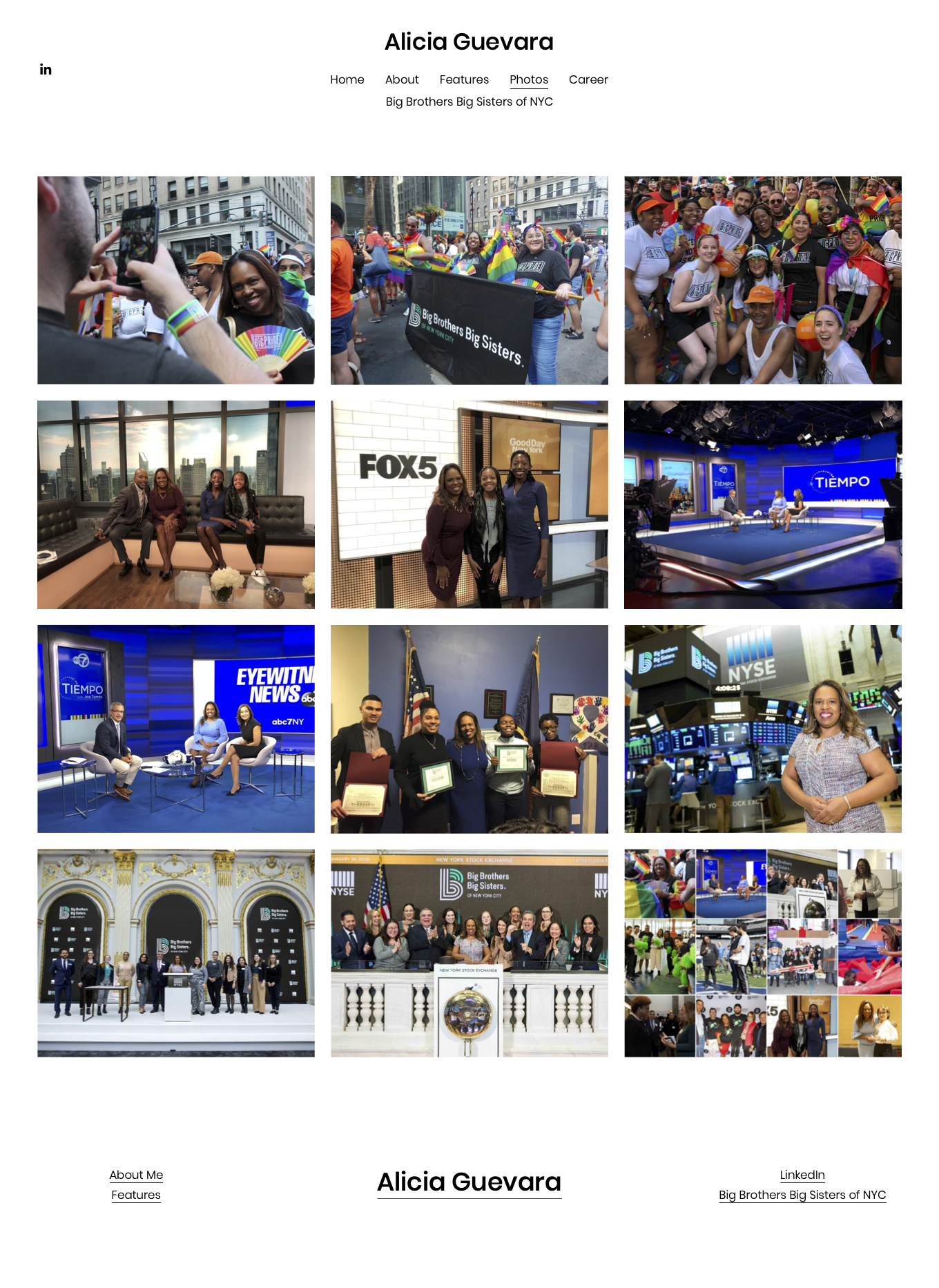 Photos
The photos page serves as a visual gallery/album of all the great things Alicia has done in the field. This is a way for the site visitor to see her in action and behind the scenes.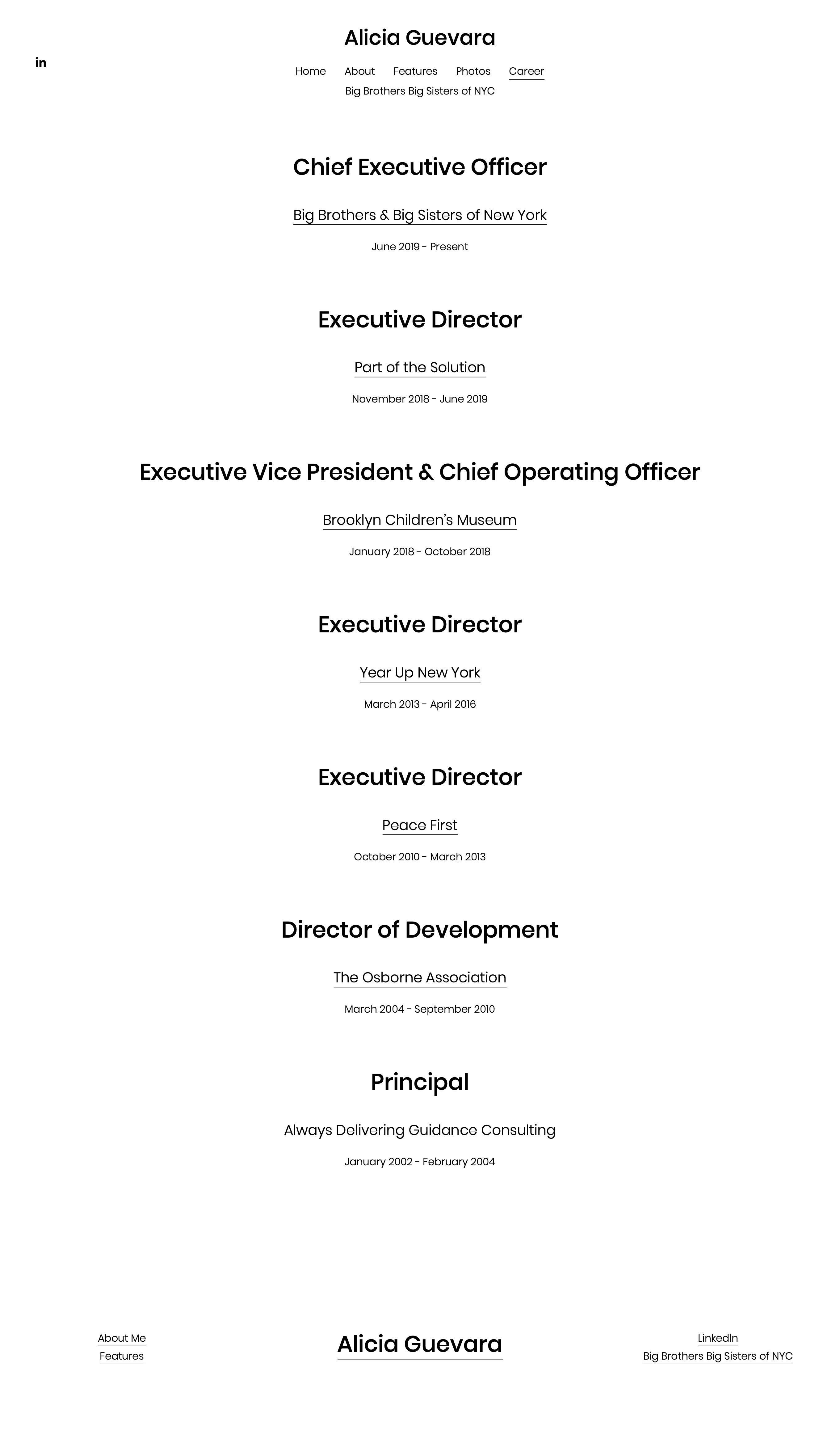 Career
This page is not to be confused with a resume, it is a career progression from Principle to CEO. Each organization links to the respective pages for further informational exploration. It was important to Alicia that her site visitors have an opportunity to learn more about the organizations she has served over her career.
"Alicia & the Chief of Staff love the site! It is clear that you put so much effort and care into this project"
-Executive Assistant to the CEO
View the live website here: